Once again AVN Las Vegas has came and went.
And behind all the flashing lights, obnoxious sluts.. err slot machines, video cameras, VIP parties, pornstars, and lack of hangovers, was just another January spent hanging with a bunch of bad ass bitches.
Now, if you happened to find yourself face to face with all of us at once you'd probably do one of two things:  you'd either piss your pants and pass out with a massive hardon or piss your pants and fall over dead with a massive hardon. I on the other hand, feel right at home.
And as if you haven't already been spoiled all weekend long with all of our twitter pics and blog updates,  here I am giving you more. Consider yourself lucky AND very left out.
I arrived late Wednesday evening already way too tipsy from the 5 and a half hour plane ride but of course was persuaded out for dinner and even more drinks. If by dinner they meant vodka infused candy and ice cream, they hit the nail on head (oh and a pizza.)
The rest of the week pretty much went like this: wake up, relax, shoot, dinner with Kinkbomb and party with Kinkbomb in VIP. Can't beat that life.
Had a relaxing time with Mistress T's boobies. The spa was nice too.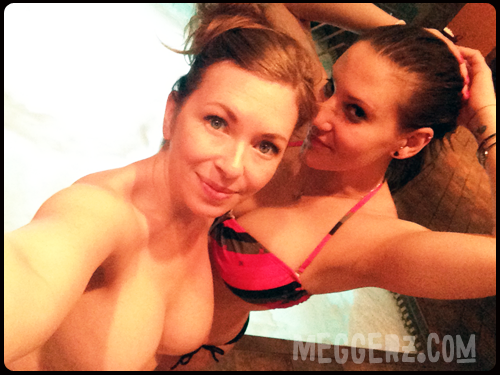 And I didn't even have to pay for watching these two clips go down.
Somehow I got talked into making this public humiliation foot worship clip with Mistress T and Nate Bitch. I was only supposed to be the cameraWOman hence my sweatpants and ponytail but it was way to easy to shoot on the strip without getting busted. My socks were completely destroyed, as you can see, because we left out the back entrance looking for a less obvious place to get some footage. After walking around for 5 minutes in a pair of wedged boots I could no longer keep up with the people finding mission. So off they came. And 20 minutes later through back alleys and parking decks we made it out onto the strip. I don't want to ruin the surprise ending but what I will say is aside from the crazy stares, random comments, and cell phone cameras, we were pretty much accepted and even uh… appreciated? by a few men.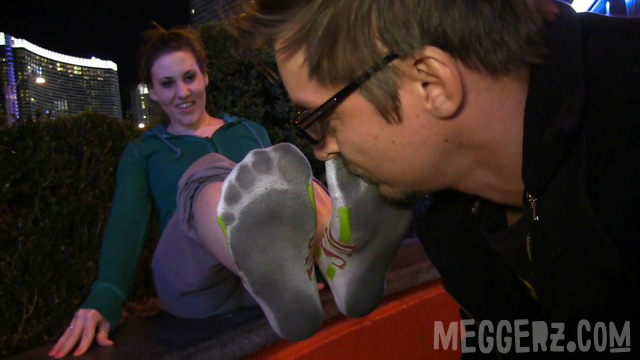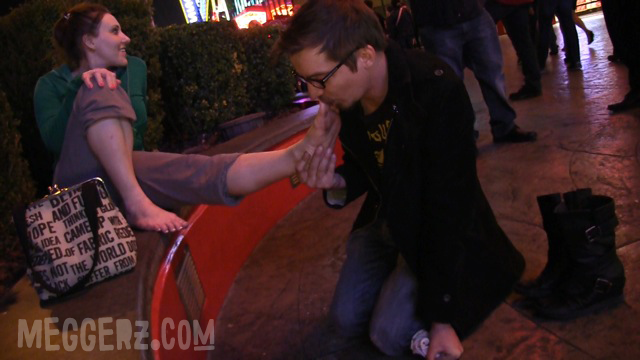 Yeah, I let Nate keep the socks. He earned em.
I could write more but…nah. I'm still in recovery mode. It wasn't the drinks that did me in. Somehow a few of us managed to pick up the flu. Hangover Heaven probably helped make my flight home a little more bearable. Go check out Mistress T's vblog about it. I make a cameo. Sans makeup AND my voice.
Go read someone elses blog to get the lowdown. I've already shared too much. It's your turn to give back to me.
// I had a sub compile ALL the photos featuring myself and  added them to the members area. Take advantage of his hard work.