Ball Busting
The most accurate depiction of ball busting as pertaining to my story is an excerpt from Urban Dictionary;
…increasingly popular phenomenon called "ball-busting"; an activity where women kick men in the testicles for the pleasure of either one or both of the parties involved. In the consenting act of ball-busting the above mentioned endorphin release in the male is sometimes made greater by the psychological effect viz; – that "otherwise caring women have knowingly caused pain to my sex organs for their own pleasure, despite knowing that it could damage me for life", – ergo the act is a sexual one.
! Disclaimer ! If you own a pair and have a weak stomach, I would suggest you tune out now.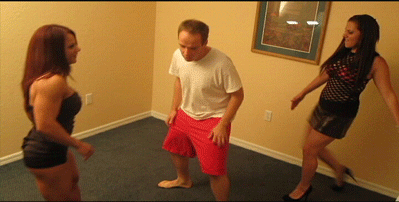 My First Time Ball Busting
…not my first time simply kicking a dude in the nuts. I discovered this weak spot in boys at a young age and I'm convinced it's the end all be all as to why if there was a God, she would have to be a woman.
My first time ball busting was back in 2010 during a trade shoot with Slave Andy. If you are curious as to how it went, you can purchase my ball busting clips with him and others here. My first time was nonsexual, business as usual. It only took a very small bit of convincing that I could kick as hard as I wanted and it wouldn't effect the shoot. Andy was a pro… and that's really not something to brag about.
Anyway, the reason for my post is to tell my story of a true submissive. I was ball busting for HER pleasure.
Please Kick Me in the Nuts
He begged me. We were laying on my bed in my Brooklyn apartment debating on where to have dinner and I was sure I had heard him wrong.
"Come again?"
"Please, kick me in the nuts. I've seen the look of pure pleasure and excitement on your face as you've kicked other subs in their nuts and I want to be the one to bring you that much joy."
He was a longterm online financial sub of mine who had paid me thousands upon thousands over the years and he just so happened to be in NYC on business so I decided I'd meet up with him. I'd give him a chance. And as fate would have it, we hit it off and developed a deeper relationship over the course of his stay. Spending the evening in my bedroom or his, debating on where to go to dinner had become a common occurrence.
For the record, he was not into pain at all. Pain of any sort did not turn him on. He did not want me to just simply kick him in the nuts to destroy him. He wanted the definition I posted above, he wanted an otherwise caring woman to knowingly cause him pain for her own pleasure. He was a pleaser. He only wanted to see me happy. A pure, selfless pleaser.
I warned him that I'd hurt him. I hesitated. I drew my leg back and I watched him flinch. I hesitated again. My hesitation only made his anticipation worse. I knew what I had to do. I pulled back and nailed him square in the nuts. He went down hard. I laughed. I laughed and I couldn't hold it back so I didn't even attempt to hide it. And once the giggling subsided, I bent down and asked if he was okay.
It took a minute but he was. And he got up and he looked me straight in the eyes and asked me to do it again. "You looked so amazing, I have to see it again."
And I did. And he went down again. And I laughed because it felt good. Not because I wanted to hurt him but because kicking a man in the balls just feels so fucking powerful and amazing and so right. And of course, he asked for it.